Algunos solo quieren y siguen a Katie por su hermoso cuerpo y el echo de verla desnuda y sexy. Otros, la ven de otra manera, desde la perspectiva artística, donde no solo es una modelo erótica sino también una obra de arte en complemento con la luz, las locaciones y el resultado de sus fotos. para esos fanáticos es esta sección, donde podemos observar el análisis artístico de algunos de sus sets de MET ART. bon appétit!!!
Some single they want and they follow Katie by its beautiful body and I throw to see undresses it and sexy. Others, see it of another way, from the artistic perspective, where not only a work of art in complement with the light, the leases and the result of its photos is a erótica model but also. for those fanatics it is this section, where we can observe the artistic analysis of some of his sets of MET ART. Bon appétit!
AVALANCHE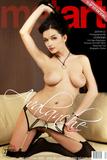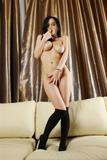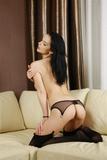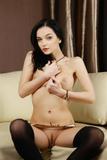 For Jenya, glitz and glamour are a natural extension of her alluring personality. A stunning beauty and smoking sensualist, Jenya feels right at home in shimmer of red lipstick, a clingy pair of stockings, and a set of ultra-high heels. In her newest collaboration with Voronin, this Met favorite reveals unlocks her deepest passions in a luxurious hotel room. Once the heavy drapes are drawn across the window, Jenya ignites.
For "Avalanche," a classically romantic gallery, Jenya and photographer Voronin checked into a Paris hotel. The creamy neutral colors, gentle lighting, and intimate atmosphere create an ideal backdrop to Jenya's striking beauty and dramatic coloring. Jenya seems to respond quickly to this intimate atmosphere, immediately striking poses on the soft couch with a sleek and sexy aplomb.
Jenya is one of the most popular models at Met, and it is easy to see why. Her aquiline features, long neck, and ebony tresses give her a dramatic and appealing beauty. Her figure is a perfect ten. Her slender waist and narrow hips are counterbalanced by an ample bosom and a curvaceous bottom. Her skin is clear, milky perfection. All her physical perfections are complimented by a truly outrageous, steamy, and uninhibited personality. She isn't the least bit shy and never hesitates in front of the camera.
Jenya is a vision of classic Hollywood beauty in the first photo we've chosen from "Avalanche." Folded neatly atop a soft, white couch, she arches her back and leans her head towards the camera, creating an utterly sensuous silhouette of her curvaceous figure. Beneath her right hand, she gently supports her heavy, warm, voluptuous breasts.
Jenya loves erotic modeling, as she makes perfectly clear in the second feature photo. Kneeling on the couch, swinging her hips to the side, and reaching her hand to her head, she is as perfectly modeled as a statue. Her ample bosom is on full display in this attractive image, offset by her large, pale pink nipples. The graceful lines of Jenya's elegant face, long neck, and slender limbs create a mesmerizing image.
The final photo from the series is a well-composed portrait of this ivory-skinned, ebony-haired princess and the attractive curves of her body. Framed by the heavy drapes behind her, as well as the cream-colored couch, Jenya's pristine, alabaster skin is incredibly soft and touchable. A belly ring glitters from her toned stomach, drawing the eye downward. Lifting her hands to her shiny black tresses, she exudes feminine mystique.