Algunos solo quieren y siguen a Katie por su hermoso cuerpo y el echo de verla desnuda y sexy. Otros, la ven de otra manera, desde la perspectiva artística, donde no solo es una modelo erótica sino también una obra de arte en complemento con la luz, las locaciones y el resultado de sus fotos. para esos fanáticos es esta sección, donde podemos observar el análisis artístico de algunos de sus sets de MET ART. bon appétit!!!
Some single they want and they follow Katie by its beautiful body and I throw to see undresses it and sexy. Others, see it of another way, from the artistic perspective, where not only a work of art in complement with the light, the leases and the result of its photos is a erótica model but also. for those fanatics it is this section, where we can observe the artistic analysis of some of his sets of MET ART. Bon appétit!
JENYAMANIA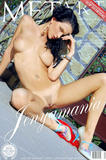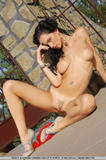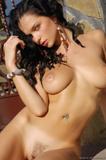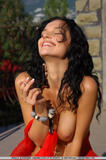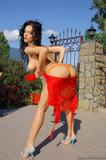 Jenya D seeps sensuality from every pore of her perfect figure. A raven-haired enchantress with an extraordinarily provocative personality, Jenya is sumptuous and sublime in her latest collaboration with photographer, Voronin, who affectionately names the series, "Jenyamania."
Jenya and Voronin have been working together for several years, and their shared confidence and incredibly positive rapport is obvious throughout this beautiful and tantalizing series. It is clear that these two veterans love to work together and, in several photos, Jenya breaks out into a wide and beautiful smile. However, it's hard to repress this vixen's arousing personality, and the photo shoot also includes a multitude of incredibly erotic portraits of the model, overcome by passion and abandon.
For this photo shoot, Voronin brings together various elements to create a beautifully complimentary palette. Jenya's shiny black curls and alabaster skin contrast with her gauzy red shirt and sheer orange panties. Behind her, the brilliant blue sky and distant trees creates a vibrant background for her curvaceous figure.
The first featured image is a beautiful portrait of Jenya's feminine backside. Turning her head over her shoulder, the folds of her ruffled blouse seems to mimic the fall of raven curls down her back. From the curve of her orange thong and between her perfectly shaped derriere, a dark shadow falls between her thighs, highlighting her sensuous body. Looking away from the camera, Jenya's aquiline features are emphasized by a dark shadow that falls across her cheek. Under the bright light of the sun, there can be no question as to Jenya's incredibly natural beauty.
The second image illustrates Jenya's infectious personality, as well as her perfect figure. Smiling brightly and turning her face flirtatiously away from the photographer, she gathers her mane of curls into her hands, allowing the viewer an uninhibited look at her surprisingly full breasts, slender waist, and pale nipples. The glittering belly ring and large hoop earrings highlight Jenya's somewhat eclectic and bohemian sense of style. Her panties pulled partially down her hips, we get a tantalizing but reserved look at Jenya's womanliness, where line of hair rise from above her panty line.
In the final image, Jenya has shed her minimal clothes and, dressed only in her jewelry and pair of heels, she crouches before the camera with her legs spread. In the direct light of the sun, her skin is peachy and smooth. The faintest hint of a tan line in her bikini area brings out her womanly features. Her lips open, she grabs her thighs, and without directly engaging the camera, she draws the viewer into an erotic and passionate moment.